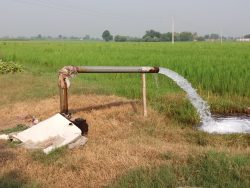 Objectives
To strength water user groups for installation of shallow tube wells to increase production of farmers.
To act in coordination with the District Agriculture Office and other related line agencies.
To form farmers and water users groups and strengthen these groups so that they adopt modern methods of farming so that they use sustainable agricultural methods to increase their income.
Duration: The duration of the project was of one year. It started from July 2006 and completed in June 2007.
Coverage: 15 VDCs and one municipality of Mahottari district and 5 VDCs of Dhanusha Districts.
Partner agency: CECI Nepal
Current Status: Completed
Major Outcomes till date
The marginal and the poor farmers of the total 20 VDCs; 15 VDCs (Prakauli, Pirauna, Bhramarpura, Bagara, Harinaari, Parsapataili, majhaurabisanpura, Bela Ankara, Raghunathpur, Khairbanni, Bardiabanchauri, Gonarpura, Koluwa bagia, Matihani) including Jalashwor Nagar Palika, of the Mahottarri district and 5 VDCs (Devpura sapaitha, ghorhas, Larama, Nararain, Sindurjoda) of Dhanusa district who were denied from the access of the loan facilities are now getting loans without collateral.
In 21 VDCs, altogether 503 Shallow Tube Wells have been installed. It has provided the irrigation facilities to 2400 bighas. Approximately, it has benefited the 3 thousand households of the villages which encouraged them to adopt the advanced agricultural system.
In 2063/64 other 255 Shallow Tube Wells have been installed in the 16 VDCs; 11 VDCs of Mahottari and 5 VDCs of Dhanusa. From this, other 1200 bighas of land is irrigated and it benefited to about 1550 households.
The irrigation facility has increased the production and productivity of agriculture sector.
The advocacy has encouraged and attracted the farmers to use the compost fertilizer which has reduced the use of chemical fertilizer.
More than 255 women farmers of the water user groups were able to sign by themselves.
From the program 412 farmers have been trained and now they have been farming with the advanced farming system.
In four VDCs 50 tube sets have been installed and GFO office had done the survey. Files have been forwarded to ADB and GFO has provided the estimation to the water user groups.
In total 283 groups are formed and registered and 255 tube wells have been installed in 063/064 which has provided irrigation facility to 1200 bighas of land benefiting the total of 1150 households. The total number of the tube wells are 503 i.e. 248 old and 255 installed in 063/064. The road construction is yet to finish.
Program area
15 VDCs and one municipality of Mahottari district and 5 VDCs of Dhanusha Districts.
Budget Needed
Project Period
July 2006 - june 2007
Beneficiaries