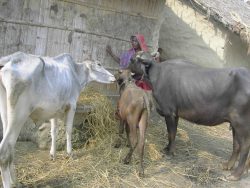 Purchased buffaloes and ox from loan of saving and credit group
Objectives
To organize and mobilize dalits, janajaties, poor and women and form community based organizations. (CO's) (Short term)
To institutionalize and strengthen the COs and to build up their capacity to identify the opportunities and develop projects according their needs and demands. (Long-term)
To improve the living standard of the dalits, poor and women through income generation, and inclusive development process. (Long term
Duration: June 2005- to ongoing
Coverage: Nainahi and Padaul VDCs of Mahottari
Donor/Partner: GoN/Poverty Alleviation Fund
Current Status: On Going
Major Outcomes till date
In total 42 community organization (COs) are formed nad they are registered in GoN/PaF. RCDSC has made a contractual agreement to work with them in the field of poverty alleviation in the two VDCs.
In total 18 organizations have got financial support from PAF and they have provided loan to the members to initiate income generation activities. A total of NRS. 53, 22,945 have been released for such activities.
A total of 178 members of the community organizations have taken loan and started several activities related to income generation and established micro enterprises.
Program area
Nainahi and Padaul VDCs of Mahottari
Budget Needed
Beneficiaries