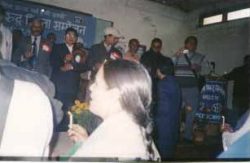 Objectives
To bring positive change on people's attitudes towards the discrimination against women in the society.
To raise awareness among the local people on the concept and approach of We Can
To generate movement against the violence against women.
Duration: July 2005
Coverage: Mahottari, Dhanusha and Sarlahi districts.
Donor/Partner agency: OXFAM GB, Nepal
Current Status: On going
Major Outcomes

723 Male and 535 Women of Mahottari district are developed and the change agents.
The change agents have initiated awareness raising activities in their owm area.
We can movement is recognized as an awareness raising movement at district level.
The women forum of Matihan, Parsa Paitili and other VDCs are actively involving to promoter We Can Movement and to make change agents in community level.
Program area
Mahottari, Dhanusha and Sarlahi districts.
Budget Needed
Beneficiaries